Scientists around the world are continuously searching for new methods to heal diseases via stem cells.
From developing new treatments, to helping us understand diseases in ways they couldn't be studied before, researchers conclude that the only way to progress is the increase the amounts of cell material that can be examined.
The latest studies suggest 3D cell models, which reflect conditions of the human body most accurately, are the optimal way to test and study stem cell treatments & its effects. This is mostly done in sterile conditions, utilizing droplet-shaped nutrient solutions.
These conditions can only be created in a laboratory setting, which requires extensive resources and equipment.
As a part of the LabBag project, the Fraunhofer Institute for Biomedical Engineering IBMT, the Fraunhofer Institute for Surface Engineering and Thin Films IST, and the Fraunhofer Institute for Process Engineering and Packaging IVV have created these optimal conditions in a cheaper and more reliable form for researchers: a stem cell lab in a bag.
HUMAN INDUCED PLURIPOTENT STEM CELLS ARE OUR BAG, BABY
Fraunhofer researchers created the mini lab – measuring an intimidating 150mm long, 120mm wide, and 20mm high – to grow and form 3D cell aggregates in a sterile environment.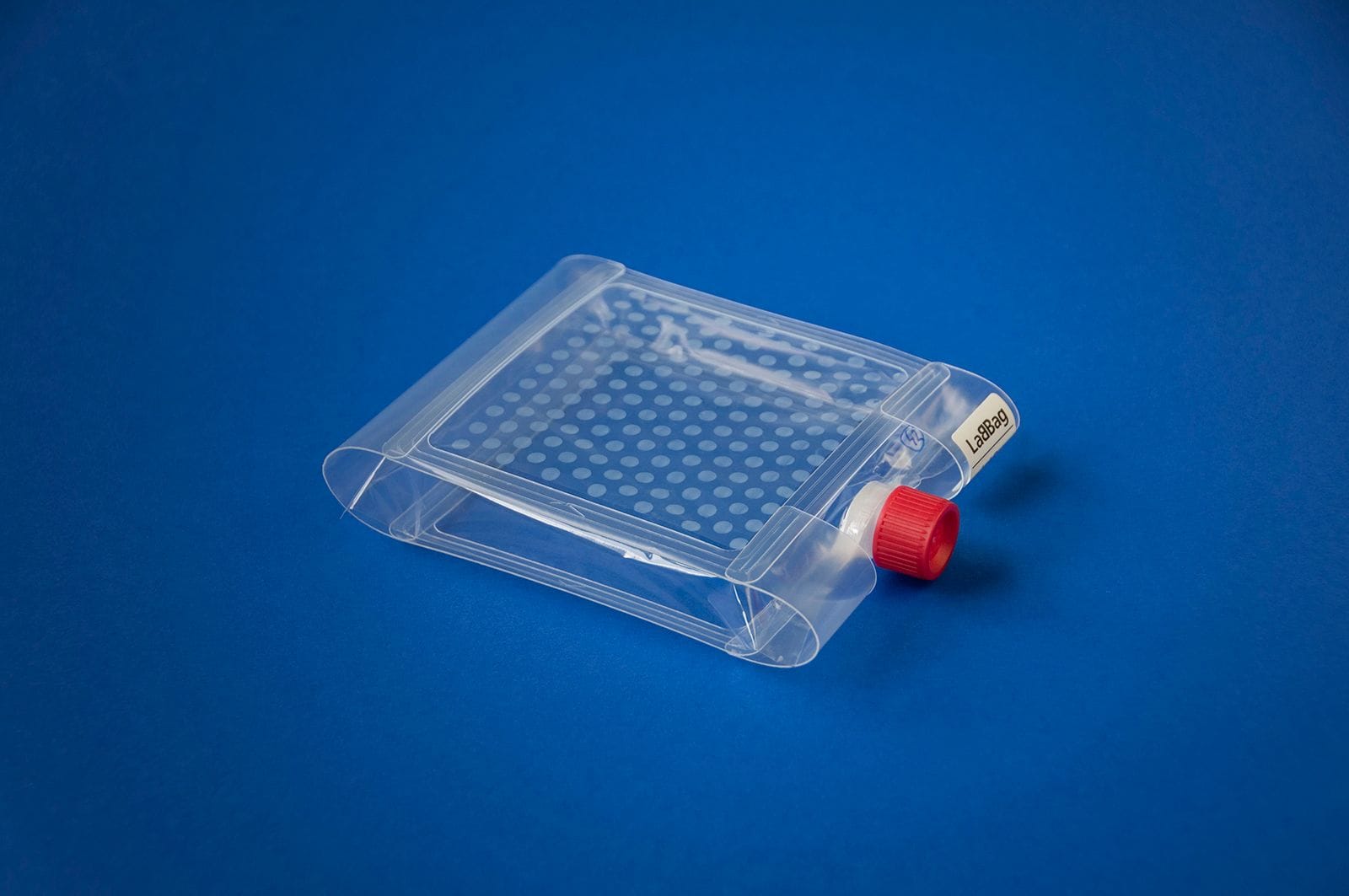 Human induced pluripotent stem cells, or artificially-created stem cells, and be aggregated in the cheap lab bag, allowing pharmaceutical scientists to use them as patient or disease-specific test systems for drug development.
Until now, stem cell aggregates could only be generated through pipette feeder robots. Based on the phrase 'pipette feeder robots' alone, it sounds much, much more expensive & complex than the simple 'lab bag' (and it is).
Manual pipetting in petri dishes is another alternative, but again, has its disadvantages in being time and labour-intensive. Plus, doing it manually takes a lot of practice and training, plus it adds the risk of contamination.
IT'S IN THE BAG
The main goal of the LabBag is to reduce costs of labour and materials in stem cell research, while increasing cell yield and reliability of testing at the same time.
Creating 3D cell aggregates has never been simpler – the researcher just shakes the bag, and in a few seconds, several hundred hanging droplets of the nutrient solution will develop.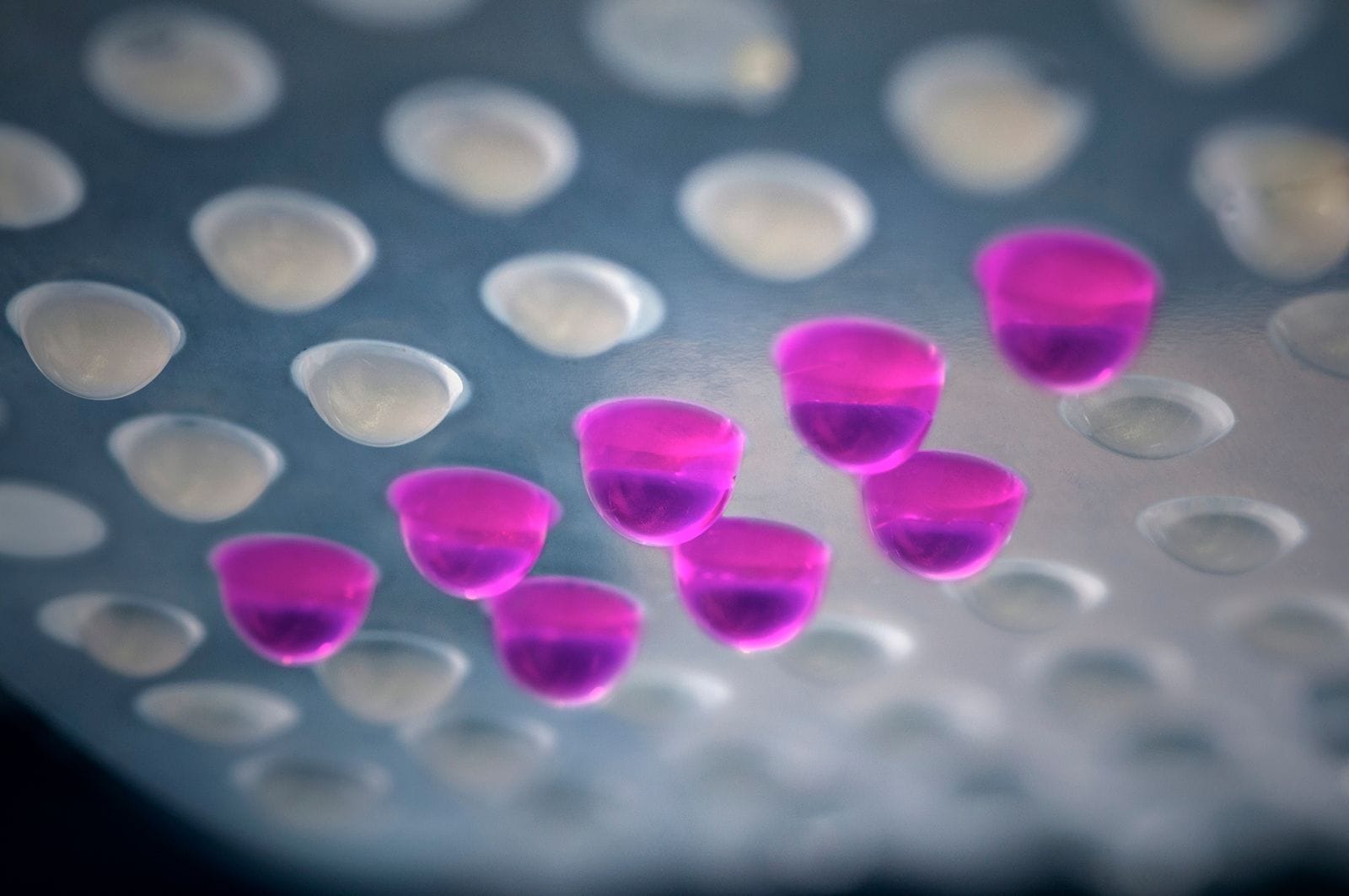 "We have coated the polymer film of the bag with two different coatings," details Dr. Michael Thomas, project manager and scientist at Fraunhofer IST, whose team was responsible for the coating of the polymer film.
"A hydrophobic, water-repellent base layer ensures that the nutrient solution containing proteins flows over the surface and doesn't stick to it. However, the second layer consists of 150 hydrophilic round spots, each with a diameter of 5 millimeters. The solution gets 'caught' on these spots, thus creating the droplets."
Another amazing feature of the stem cell lab bag is the cell models can be frozen. Unavailable with pipetting, this eliminates the need to transfer materials into separate vessels.
3D CELL MODELS IN 72 HOURS
It takes just 72 hours to produce aggregates in hanging droplets through the LabBag.
"We describe our LabBag as a mini GMP laboratory – where 'GMP' is short for 'good manufacturing practice,' for which it meets all the requirements. The closed, sterile nature of the system makes the risk of contamination very small. Ultimately, we can produce better cell models for drug research and thereby avoid experiments on animals," explains Dr. Julia Neubauer, biologist at Fraunhofer IBMT.
There's no doubt the LabBag could be a cost-effective, attractive alternative to expensive and laborious lab settings. And make no mistake – the amount of testing, research, and refinement of the LabBag was extensive.
It needed to be highly transparent, and sufficiently retain its shape; it had to be sealable and stackable; it needed to be capable of being sterilized and undergo cryogenic freezing. The bag also had to offer single-handed operation (self-opening), and seamless accessibility to exchange nutrient solutions.
The prototype was unveiled November 13 at the MEDICA trade fair in Düsseldorf. Fraunhofer hopes the mini lab will be picked up by the pharmaceutical industry, as well as smaller labs with no clean room technology, as an opportunity to grow and test high-quality, 3D stem cell models for drug research – without the notoriously high investment costs of financial & human resources.
---
We don't have stem cell therapies in a bag (yet), but we do offer tested, proven injection therapies & regenerative medicines aimed to alleviate your chronic pains.
Our stem cell treatments are suited for high-performance athletes – ask about our Platelet-rich Plasma (PRP) therapies! – to the elderly in need of arthritis pain relief.
Visit our site and see how our stem cell treatments can help your body recover from chronic aches and pains!